NEW; HURST WHEELS! $5,800 per set complete (4) 14"
*

64-72 Re-Chromed bumpers
*

Polished alluminum and stainless steel
*

Engine parts, new and used
*

Wheels, Refurbished and original, including hurst
*

Steering wheels, repro and orginal
*

New interiors and convertible tops
*

New

and original dash pads and bezels
*

Transmissions and engines
*

NOS parts, accesories and options
*

good used parts, accesories, and options
*

orginal, NOS and reproduction sheet metal; hoods, hinges, fenders, quarter pannel skins, deck lids, ect.
*

electrical parts including harnesses, power options, gauges, NOS, refurbished originals, good used and reproductions available.
*

hardware including body mounts, screws, bolts, bushing kits.
*

Floor pans and trunk floors, original and repo
*

Also available rare and unatainable sheet metal "cuts" such as tail pannels, cowls, floor cuts, roofs, front clips, quarter clips, frames, core supports.
*

Also available; shifters, linkage, consoles, seat frames, convertible top frames, convertible top components, and much more.
CALL FOR YOUR WISH LIST OR FAX YOUR ORDER TO US AT 215-651-9268
SOME OF OUR RARE PARTS FOR
SALE
Complete (shipping not included)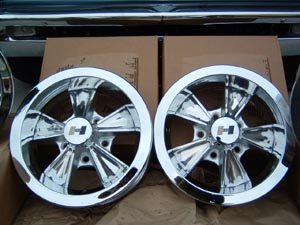 66-67 Red Wheel Liners (new in box)........inquire
Here is what the liners look like on the car: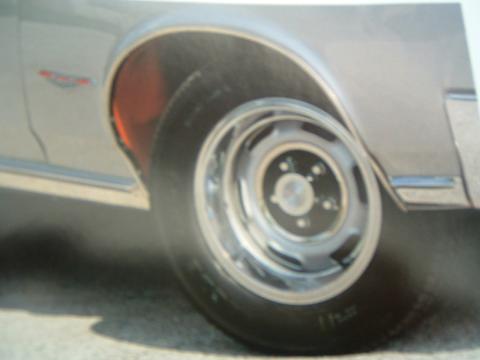 Shipping terms and costs may vary per item. Please inquire about shipping when ordering item.
MANY OTHER PARTS AVAILABLE . . . . . . . . . . . . . . . . . . . . .$ Inquire
including new interior sets, engines, bumpers, sheet
metal, rare options, dash refinishing, wheels, new glass,
power window setups, power door locks, gauges, tri-powers, transmissions, consoles (used & restored),
and many NOS parts and hard to find items.
Chances are we have or have access to what you need.